Julie Marsh Art
30 Paloma Ave. San Francisco CA 94127 US
Announcing a new series of mixed media meditations, "Alive!". These works use quick sketches of live models as the key element in order to capture a sense of vibrancy and motion. The sketches are colorized in Light Room online. The printouts are used with acrylics, assorted papers, cheesecloth, and pastels to create exciting new mixed media art work. 
"Alive!" will be on display at the SFWA Gallery February and March at 647 Irving St. in SF. The opening reception is on Feb. 10 5:30-8:00. Hope to see you there!
You can also see several of my art works in the juried show, "Icons" and meet many of the talented SFWA artisits!
I'm excited to announce the December juried exhibit at the San Francisco Women Artists Gallery, "San Francisco Impressions"! Two of my art works have been accepted that feature scenes of people waiting for the bus on West Portal. I was fascinated by this subject because it is a perfect metaphor for all of our life transitions...those in between times...reflecting on the past...imagining the future...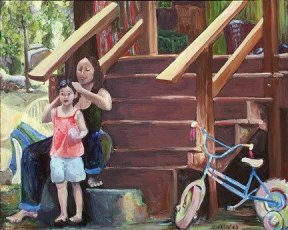 You are invited to the Artist Salon Reception Sunday Nov 15 2-5PM at the SFWA Gallery - 647 Irving St. !
This is a great chance to meet all the Salon artists who can answer your questions about their work. My exhibit features some of my Camp Mather Art paintings, images of the iconic family camp owned by the city of San Francisco, and beloved by thousands of San Francisco families. There are two originals for sale ("Ode to Wet Towels" 30"x40" $695 and "Kayak and Baseball Cap" 24"by 40" $495 and really amazing giclee prints on canvas of the two "Catching Tadpoles" works, 18"x24" $295.  I will be adding another very special print - "Camp Mather Madonna", 20"x24" $315. The other works in the series can be viewed on my website and prints on canvas of different sizes can be ordered.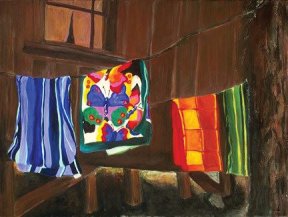 This is my first blog post...woo hoo! I'm very excited to invite you all to my Camp Mather Art show at the SFWA Gallery, 647 Irving St. SF. The exhibit is for the month of November. This orginal, "Ode to Wet Towels" will be on  for sale at $695! You can also purchase beautiful giclee museum quality prints on canvas that look like originals at affordable prices! Great for gifts!
/